Romance is in the air and we bring you the hottest couple ideas!!!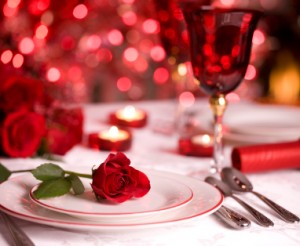 Dinner for Two- Sizzling Romance: Whisk your date away for a romantic evening of scrumptious Italian food and fine wine with its soft mood lighting and soothing music.
Great Date: Include some culture into your lives on your next date. Visit the museum or an art exhibition for an entertaining and educational day out. You both don't have to be art critics to just take in the art. You will end up learning a lot about each other's tastes and on art in general. Not to mention that this date is even light on your wallet! For a post- museum jaunt, you could go for drinks or dinner and discuss the pieces you viewed, and share with each other what you liked and what you didn't.
Home Alone: Every guy loves his video games! You know it is true. So, the next time you both are home alone bring out the play station or Xbox and have a go at it. Try Guitar Hero, its silly and fun for even someone who isn't very into video-games. The two of you can jam and sing together and pretend to be rock stars. Playing video-games is both a stress buster and will help you both bond!
Book Love: Now what better than two of you snuggling together with a romantic novel and partake in this treat that has something for a romantic heart!
Kuchikiccu: If you see your partner looking over worked and tired, surprise him with a neck and shoulder or even a head massage.This is the perfect way for him to relax and de- stress as well as a chance for the both of you to connect.
Music- Love Notes: Sit back, relax and listen to your favorite music and get closer to each other.
Movie Magic: Catch up on a classic romance or any new romantic comedy or action thriller movie of either your or your partner choice with some pop corn and coke. One of the oldest but best way of romance which works till date.
Useful Tip: Don't monopolise the conversation. Ask your date questions about his day, and what interesting things happened. While he talks actually listen to what he has to say.. even if it is about sports!
Share in your dating ideas too below!!!