Getting your make up right for the big day can feel like a massive task, even if you have entrusted yourself to the care of a professional make up artist. At times, if the make up professional goofs up, you could end up looking eeriely white faced or like a overtly pink pastry in all your photographs.
Make up for a wedding should be done keeping in mind the time of the wedding, for a morning function, keep your colours simple and natural and yet defined, you can go for the all out glam look during the day. Here are some tips that will help you look beautiful both at the wedding itself, and in the photographs you look at for years to come.
Less is More: Don't get your face made into a mask. Too much foundation, blush and eye make up can take you to the borderline of drag. Insist the make up stays natural. Your best features need to be accentuated and your not so perfect features need to be camouflaged skilfully. Wear as much make up as you are comfortable with or you will look ill at ease in your photographs.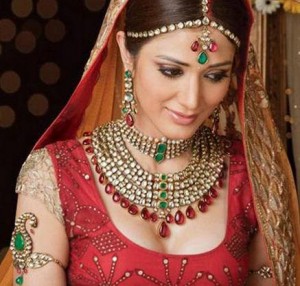 According to Cory Walia, make up expert, the biggest mistake most brides make is choosing blush and lip shades to match their outfits rather than their skin tones. For dusky complexions he recommends shades like caramel and coffee, cobalt and olive green which go with a dusky skin. Pinks, light blues and greens are not recommended. A medium complexion can carry off any colours. Fair complexions he says should stick to pastel shades like peach, baby pink rather than bright reds and fuchsias which can get a trifle overwhelming.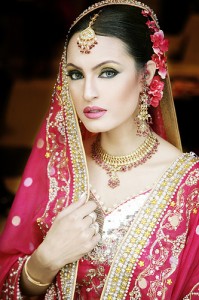 Your wedding day should have you looking classic, keep your eyeshadow colours natural like bronzes, smoky hues, charcoals, pinks and peaches rather than opt for colours like greens and blues.
Make sure your eyebrows and eyes are well defined so they show well in photographs, but do ensure the blending of shades is done well. The flash can bleach out your features so some definition is always welcome. Shimmer can look glamourous in person but if not used well can make your face look oily. Stick to the matte as far as possible.
Use shimmer as a highlighter not as an all over element in your make up.
Above all, be at ease with your look, if you feel ill at ease, it will show in your photographs. Meet your make up artiste before hand and discuss the kind of look you want with swatches from your outfit, to let them know the colours they could use to complement the outfit. The complete look should look put together seamlessly with no elements that stand out. That, and the confidence that she is looking her best, is what makes a bride look radiant and beautiful both on camera and off.
Ensure that your makeup is good for flash photography, choose foundations which have a yellow undertone, which can create a warm appearance in photographs. Judicious use of bronzer at the forehead, the high curve of your cheeks, and the bridge of your nose can create a flushed healthy look.
Use a light dusting of loose powder to set your make up, too much heavy pressed powder use can make your face look chalky and dull, and no powder will make your skin shine.