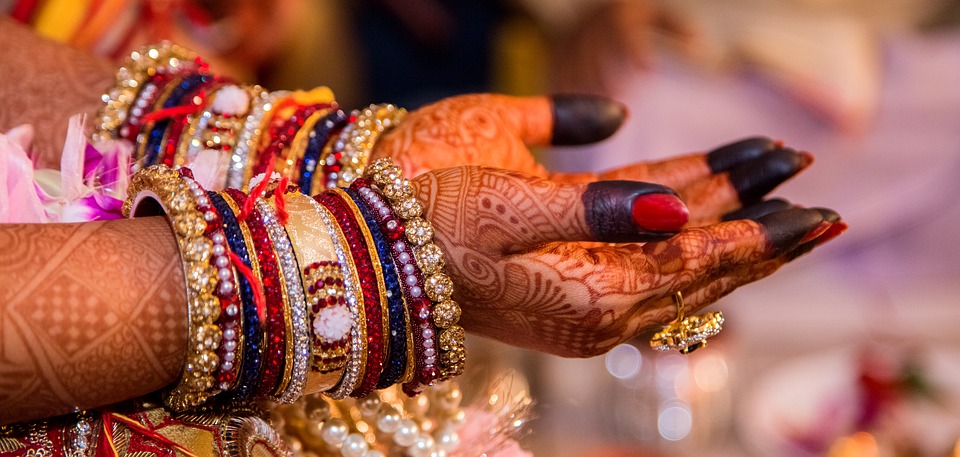 The most important rule for buying jewellery is to buy what suits you best so you can use it for a lifetime. You will be amazed how  your overall body size and shape can play a vital part in selecting the right type and can enhance your look. Check out your category:
Petite (Under 5ft 4″)
Necklaces:
Petite brides should go for collar length or longer necklaces. Styles with V shapes and ones that fall below the breast but above the waist elongate the figure.
Bracelets:
Bangles flatter petite women. Several narrow ones are more flattering than one wide one because they are more in proportion to the petite bride's overall size.
Earrings:
Concentrate on styles that sweep upwards, pulling the viewers eyes up. Sharp geometric shapes suit you.
Average (5ft 4″ to 5ft 7″)
Necklaces:
The average height bride can wear any length necklaces.
Bracelets:
Wide bracelets complement this bride.
Earrings:
Triangles, squares and ovals, choose your pick.
Tall (Over 5ft 7″)
Necklaces:
The tall bride should choose chokers which cut the line of the neck. Necklaces made of stones or pearls are particularly flattering.
Bracelets:
Stay away from pieces that are too delicate. Wear several bracelets together or a couple of wide bracelets.
Earrings:
Long dangling earrings are especially flattering.
Wedding Guru arranges for destination weddings at your dream destinations, providing you a truly memorable experience. Be it your dream of having a Royal wedding in a palace, an adventure filled affair in the lap of virgin jungles , a purely romantic beach affair at a pristine beach in an exotic locale, or even a yet unexplored – untried idea, Wedding Guru organizes it all! You could share your dreams with us and we will help you live them! Come and realize your Dream Wedding with us….  visit our website :  www.WeddingGuru.in or write to us at  info@weddingguru.in
SaveSave
SaveSave
SaveSave