"Something old, something new
Something borrowed, something blue
And a silver sixpence in her shoe."
Each item refers to a good luck token for a bride. The custom is that if the bride carries all four items on her wedding day, she will have a happy marriage.
Each verse refers to a good luck item:
Something old – continuity with the bride's family and the past
Something new – optimism and hope for the bride's new life ahead
Something borrowed – an item from a happily married friend or family member, whose good fortune in marriage is supposed to carry over to the new bride
Something blue – Before the late 19th century, blue was a popular color for wedding gowns, as evidenced in proverbs like, "Marry in blue, lover be true."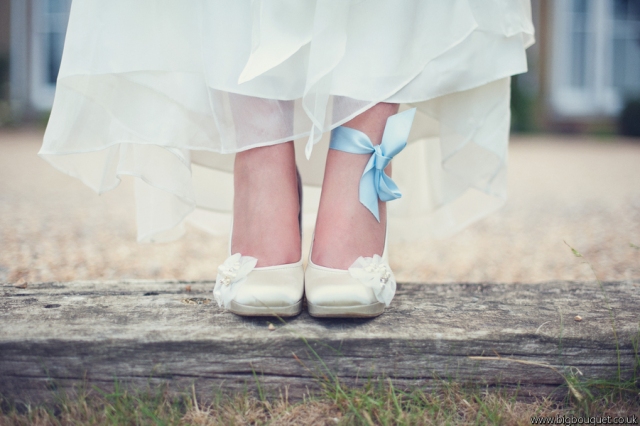 Popular Ideas
Something Old
A relative's wedding gown or using a piece of the fabric to sew into your own gown or wrap the bridal bouquet

A family heirloom: jewelry, veil, headpiece, handkerchief

A piece of fabric from an old childhood doll or article of clothing, either sewn into your gown or used as a wrap for your bouquet.

A locket with photos of your parents or grandparents.
Something New
New shoes

New jewelry

You wedding gown, if purchased new.

New lingerie or garter
Something Borrowed
Often, this is jewelry belonging to someone close to you: earrings, a watch, pearls, etc.

A veil or headpiece

A brooch or hair comb

A purse
Something Blue
Monogram in blue thread sewn into wedding dress

Blue shoes

Blue lingerie

Blue nail polish

Jewelry accents in blue: earrings, rings, bracelets, anklet, toe rings, necklaces containing sapphires, topaz, aquamarine, Swarovski crystals, etc.

Blue bouquet accents: ribbon wrap, brooches, cameos, lockets

Blue sash for wedding gown

Blue embroidery on wedding gown

Blue hair accessories: hair clips/barrettes, headband, etc.

Blue rhinestones glued to bottom of wedding shoes in shape of initials