The Modern Pitch to Mehendi and Sangeet
Predominantly celebrated in northern and western parts of India, the mehendi and sangeet
are normally a two day affair.The ceremonies can be called a treat for music lovers or a
wedding musical fest of sorts as all friends and family join together to dance and sing. A pre-wedding event is always about fun and frolic. From Gujaratis who join together to do a garba to the traditional Punjabi songs that are popular all over India with its inclusion in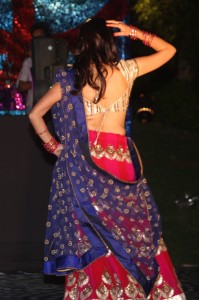 Bollywood in a big way; Sangeet and Mehendi are a perfect amalgamation of folk, Bollywood and pop music. A group of women getting together, playing the dholak and singing is also probably one of the most common sights which will never leave the Indian Wedding ceremonies, and proudly so. In UP and Bihar where haldi is given much more prominence, folk songs are the only songs that grace the occasion. In Bengal where the haldi ceremony is equally important – popular folk, the evolved Bangla film songs and other pop-cultural musical renditions tease the ear buds.
A fusion of music on these occasions is always a good idea as this way the elders get to enjoy their share of traditional music while the youngsters can keep grooving with the DJ playing till the wee hours of the night.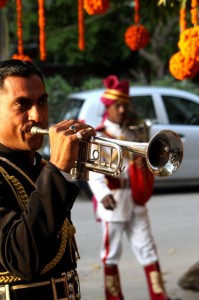 The Band Baaja at the Baraat
Perhaps the loudest and the most entertaining musical procession throughout the wedding is the baraat. Nothing amplifies the excitement and enthusiasm of the groom and his friends and family as they arrive to take away the bride. The hired band blow their trumpets, hold up bright lanterns and take over the streets. Everyone around has to stop and look as it is a sight not to miss. The musical numbers that are loudly played are usually a mix of old and new Bollywood songs.
The Bidaai Ceremony
The most heartfelt and touching moment of the ceremony, bidaai holds utmost
significance especially for the bride and her parents. Bidaai is truly an emotional moment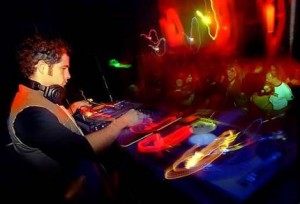 that is captured beautifully is some of the songs and traditional folk music. As the bride steps out of her house (or nowadays the wedding venue) leaving trails of rice behind, the slow and soul stirring santoor, the shehnai clearly echos a bride's state of mind. It is the emotional music at the bidaai that makes the bride and her family members realise the big shift that is about to happen!