Choosing a pair of wedding shoes may sound simple but it is quite a challenge when you go out to shop for the right pair. It is most important that the shoe is uniquely you and gives you happy feet.
Here are some suggestions you could use –
1) Keep your theme in mind
In case you are going for a beach wedding, it's not a good idea or ideal to wear high heels
even if they are wedge heels. The sand will penetrate through and your feet will be uncomfortable throughout. In this case we advice that you either go with flip flops or flat strappy sandals. We are sure you will spend endless amounts of time in picking up that one perfect beach-appropriate gown, but it is important you pair it with the right footwear too. You can find embellished sandals or you can look for flip flops that are not-so-casual looking. You can go for whites, beiges and neutral colours such as the colour of the sand. Stark colours in the sun are a big no no!
If your wedding is Indian – inspired, you can go for Indian sandals that are either low-heeled or flat with embellishments. Juttis could be an option too.
2) Pick a contrast or a motif colour
If you are planning for a traditional wedding ceremony with all white for your wedding gown and a contrast color for your bridesmaids, you can go with the same colour for your shoes too. For example if your bridemaids are wearing red wine, your shoes can be red wine too. In an Indian wedding where there are no bridemaids as such you could pick a theme colour that contrasts with your outfit or the colour of one of the motifs/ embroidery thread on your outfit. You could also go with the colour of the embellishment – The zari, stone or sequin work. Idea is for them to not blend but stand out and make a statement!
3) Choose comfort over what's in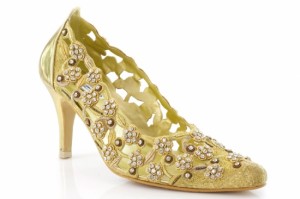 Make sure the sandals you pick are comfortable to walk or dance in. After all you have to be in them for a long time and have a dozen other things to handle. So being comfortable is key. When your shoes are comfortable you will automatically feel a little relaxed and wont mind walking the extra length. Very high heels can cause you a back ache so its best to avoid them. Even if a pair may seem comfortable when trying in a shoe shop, they may not be the same when you have to wear them for a longer period. Therefore be wise and take tips from past experiences and buy the right pair! Also it is recommended that you wear them once before and walk around to ensure they open up and take your foot shape. This will enhance the comfort factor.
The idea here is to stick to a bit of style and elegance without compromising on comfort.