Every Girl wants to look like a princess on her wedding day, but that does not mean that she has to break her or her father's bank account especially over just the wedding attire. One can still look like the belle of the ball on one's special day by shopping wisely and by keeping some things in mind.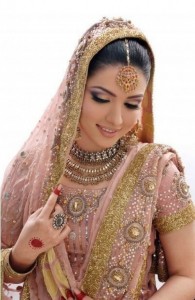 Known Designers versus Upcoming Designers
Do not choose a high-end, "known" designer to create your lehenga only because you are attracted by the pictures in the glossy magazines. Just like any other item that one buys, a premium designer will probably be more expensive than an upcoming one, because of the brand value, and not necessarily because they are giving you more for your money's worth.
Due to hectic schedules, at times an established designer may not be able to give you adequate attention or meet his deadlines, so you might end up compromising on something you are not completely comfortable with. Often, a lesser known designer is more careful in keeping your interests; hence he/ she may give you more time and attention.
If you are a Socialite or a Bollywood Diva – you'll get all the attention and exclusivity from an established designer, else you can never be sure of your lehenga remaining exclusive for you. Also you may need the name to flaunt on camera and amongst the crowd. It is a known fact that established designers make lofty promises to their unsuspecting customers, so tread the lines carefully. Inevitably you may also find your super-expensive design hanging on a shop window or being worn by another bride – sometimes, even before your own wedding!
Embellishment Overdose
Most well known designers unnecessarily over-charge for wedding lehengas, by jamming it with embroidery, crystals and bead work. This makes the piece look gaudy and you look like a bride caged behind yards of embellished cloth which makes one feel suffocated and uncomfortable. A perfect lehenga should compliment your face, and not attract all the attention, while your own beauty is left unnoticed.
Don't let the outfit weigh you down
Big Designers quote hefty prices while boastfully telling you how weighty your lehenga is and hence priced at such astronomical figures. We do not want our lehengas to be heavy. The last thing one wants is to be bogged down by heavy outfits on one's most special day. One should be most careful about the dupatta not being too heavy, as you would be carrying all the weight on your head, making it an exercise.
An ideal ensemble
The other disadvantage of an over-dose of work on the lehengas is that it doesn't look pleasing to the eye. An ideal ensemble should have two heavy pieces and one light piece or vice versa. One can go for a heavy choli and lehenga, and a light dupatta, or a heavy lehenga and dupatta, and a light choli. A lot of people are now choosing light cholis, and lehengas, with heavy dupattas which alongwith bringing down the price of the outfit, makes a statement. Whatever you decide on, make sure you choose an outfit that you can wear even after your wedding on other occasions. Unless you have loads of money to spend, don't make your lehenga a "once-in-a-lifetime" wear. Choose versatile lehengas that you could combine with different dupattas for occasions later on.